Pre-K Resources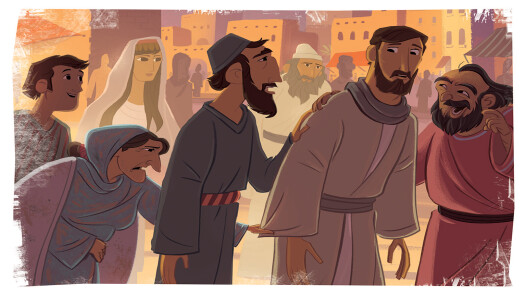 Application Activities
SING A BIBLE STORY SONG
Sing to the tune of 'If You're Happy and You Know It'
God created people for His glory (clap twice, repeat the line once)
Jesus heals us from our sin when we choose to trust in Him (Point to God)
God created people for His glory (clap twice)
MAKE HANDPRINT ART
Provide construction paper for your child. Paint (or trace if you don't have paint) his palm with washable paint. Help him press his hand gently on the paper. Write the story point on your child's art.
Say: Jesus made a girl alive in the story. Jesus touched her hand. Jesus can heal people and give dead people life. Jesus shows His love and power through healing people. God created people for His glory.
STICKY NOTE TAG
Separate a pad of sticky notes and give your child(ren) a handful. Tell them that when the music starts, you are all going to try to stick the sticky notes on each other's backs. Play the music and start sticking the notes on each other. Count the number of notes when the music is done.
Say: When we stuck the notes to each other, could we feel it? In this week's story, Jesus knew someone had touched His robe, and the woman believed Jesus could heal her. Jesus healed a woman and brought a girl back to life! Jesus can heal and give dead people life.
---
Sunday Morning Lesson Material

How to engage with the lesson material:
1. Worship with Miss Heidi
2. Watch Miss Julia's Teaching Video
3. Watch this week's Gospel Project Lesson Video & Key Passage Song Video.
4. Use the Activity pages to enhance and review the lesson.

Worship with Miss Heidi




MIss Julia's live teaching!
The Gospel Project Pre-K Videos